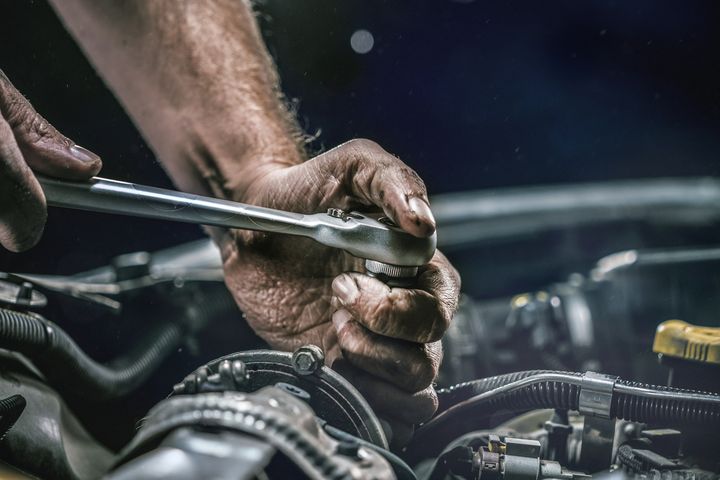 Once the odometer hits 90,000 miles, it is time to come to Airport Auto Tech in Oxnard to get your regularly scheduled maintenance. Reaching 90,000 miles is a huge milestone and testament to your vehicle's dependability. However, to continue maintaining your vehicle's reliability, staying on top of your vehicle's maintenance services is a must. Whether it is time for a 90k mile service for your Acura, AMG, Audi, BMW, or any other make, our technicians are knowledgeable and trained to work with a wide variety of different vehicles. We stay up to date with all the latest technology to ensure that you and your vehicle get the best service possible.
Give us a call at 805-983-0800 to schedule an appointment for your 90k service! Getting this service once your odometer hits 90,000 miles is extremely important because this is when certain components, like engine fluids and timing belts, typically reach the end of their lifespan and may need to be replaced. Not getting the appropriate components of your vehicle replaced means a serious issue could occur in the future, increasing the likelihood of more expensive repairs in the future. To avoid this and to keep your vehicle running smoothly, come to Airport Auto Tech in Oxnard to get your regular maintenance.
Here is what the 90k service interval may entail:
First and foremost, our technicians will thoroughly inspect your vehicle for any issues. These regular service intervals based on manufacturer recommendations are designed to make sure you maximize the lifetime of your vehicle. If you have any questions or concerns, our technicians can help. Here is a list of what our technicians may perform during your 90k service:
Oil change: This service is important to maintain the performance and efficiency of the engine.
Timing belt replacement: For some makes, once your vehicle hits 90,000 miles, it is time to look at the timing belt. Typically, this mileage milestone is when it is time to get the timing belt replaced. Getting the timing belt replaced lowers the risk of the belt breaking and making your engine lose power.
Replace hoses: Hoses are designed to withstand high temperatures, oils, and dirt for a long period of time. However, they are made out of rubber, which like most materials, degrades over time. Therefore, during your 90k service, getting this part inspected is crucial.
Battery service: Batteries tend to last several years, but eventually lose their state of charge. Depending on the last time the battery's state of health and your driving conditions and habits, getting the battery inspected and assessed is very important.
Check brake pads: Brake pads are designed to slow your vehicle down, which causes a significant amount of friction and heat as you use the brakes on your vehicle. Over time, your brake pads will wear down. During the maintenance service, checking that the brake pads are at a safe thickness and can stop your vehicle is a top priority.
Tire rotation: This service is important to maintain the longevity of the tires because it ensures that the normal wear and tear on your tires is spread out evenly.

Replace spark plugs: Spark plugs are important for optimum engine performance. By 90,000 miles, the spark plugs are generally nearing the end of their lifetime and may need to be replaced.
Replace air filters: Air filters are a regular component that may be replaced during a routine maintenance service.
Check fluid condition: Fluids have a usable service life before they start to deteriorate and lose effectiveness due to natural consumption. Our technicians will replace the appropriate fluids.
Airport Auto Tech is a dependable repair shop for the residents of Ventura, California, Ventura County, Port Hueneme, California, Oxnard, California, or the nearby locations. We will make sure your vehicle is serviced efficiently while being meticulous with our services. We will take care of any service requirements that your vehicle may require and go above and beyond to ensure a top-notch service.
Your Reliable Shop for Service Intervals
When it is time to get your 90k service, come to Airport Auto Tech! We at Airport Auto Tech in Oxnard are experts in all things maintenance and repair work. We've been fixing cars since 1975, and our technicians have decades of combined experience. Whatever make and model you drive, our technicians are very knowledgeable about performing all scheduled and preventative maintenance services and will let you know if there is anything wrong with your vehicle. Many drivers in the 93036 area come to our shop for reliable service to maintain their vehicles.
Reasons You Should Do Business With Us:
Transparency
Honesty
Integrity
We are Experts
Years of Experience
To schedule an appointment with Airport Auto Tech in Oxnard, give us a call at 805-983-0800 or schedule an appointment online. Airport Auto Tech - An Oxnard Classic Since 1975.